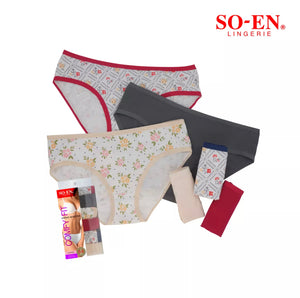 SO-EN Anisha Comfyfit Ladies Lowrise Bikini, 6 Pieces
An authentic SO-EN Lingerie product. Manufactured by Josefina manufacturing Inc., Philippines.
Material: Premium Cotton Spandex
Description: Lowrise with outside waist and leg garter.
Print: Printed and Plain in Assorted Colors.
NOTE: These run small and are in Asian sizes, please order a size UP.
IMPORTANT DISCLAIMER:
For quality control and hygiene purposes, ALL SALES ARE FINAL. 


---