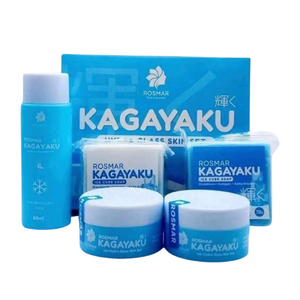 Rosmar Kagayaku Hydra Glass Skin Set
ROSMAR KAGAYAKU HYDRA GLASS SKIN SET❗ Eto na lima ang laman pero di mashaaaket sa bulsa🥶❄️🧊 malamig na sobrang bango pa amoy peppermint mga be! Grabe to sobrang bango as in! Pwede sa mga teens, buntis at lactating. Pang MAINTENANCE na hindi mashaaaaket Sa bulsa. 10x instant puti na, pimple and scar remover pa! lamig❄️🥶🧊 NAG YEYELO! #ROSMARLANGMALAKAS WE DO NOT GUARANTEE RESULTS. RESULTS VARY FROM PERSON TO PERSON. SAFETY: Before use, perform a SPOT TEST to test for sensitivity as follows: Apply or rub product/products to a patch of skin on the inner, lower arm. Rub it in and allow it to dry on the skin. Do not wash that area of the skin for at least 24 hours; watch for signs of reaction. If rash, burning, tingling, or inflammation occur, immediately remove the product from skin and discontinue all further use.
PLEASE NOTE THAT the packaging appearance of the item may not be exactly the same as shown in the pictures as the manufacture may change the look of the packaging every now and then; but the contents are the same.
---