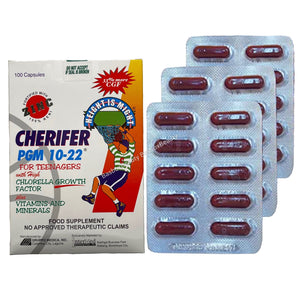 Cherifer PGM 10-22 + Zinc (Vitamins and Minerals + Chlorella Growth Factor Taurine (100 Capsules)
Cherifer PGM 10-22 With Zinc is fortified with 100% recommended energy and nutrient intakes (RENI) of zinc, the mineral salt that supports faster growth rate and development especially during childhood and adolescence.
CGF (Chlorella Growth Factor):




Pubertal Growth Maximizer: The growth enhancer, Chlorella Growth Factor (CGF), provides a high quality protein that is rich in nucleic acids and essential amino acids necessary in the stimulation of growth, tissue repair and healing. CGF promotes growth by acting on cells of the human body that are in a stage of vigorous proliferation, promoting growth enzymatically.

Taurine:




The most abundant free amino acid present in muscles, is necessary to be in sufficient body reserve to respond to rapid growth rate and rapidly expanding muscle mass.
---
We Also Recommend
---